One technology integration issue I hear about often from teachers is the amount of time it takes for students to get logged into a website or their Google accounts. It may not seem like it would be a big deal, but account sign-in can be a roadblock to technology integration if it takes up a good 5-10 minutes of time (especially at the lower grades). In one of those, "I can't believe I didn't think of this" moments, my friend and colleague Cassie (@cass_giirl on Twitter) reminded me of the "Text Replacement" feature on the iPad. Also known as keyboard shortcuts, this feature will save time and headaches!
How Does It Work?
Tap the following: Settings > General > Keyboards > Text Replacement. Tap the + in the upper right corner. The "Phrase" is the text you want to use, and the "Shortcut" are the few letters you'll type in so that the "phrase" pops up. For example, if I type "La Habra City School District" quite often, that would be my phrase, and "La" might be my shortcut. Check out the gif below for a demo of what that looks like: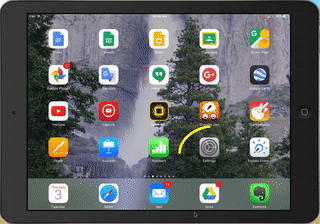 When you are typing anywhere on the iPad, including somewhere on the Web, typing those first few letters will bring up the whole phrase. Tap the space bar, and the phrase will fill in.

For students in the district where I work, it is a challenge to remember and spell the end part of the email address. By creating and enabling this shortcut, teachers and students will find that they save valuable time getting students logged into their accounts.
Part of the beauty of these shortcuts is that they can also be created for student usernames or anything else that the students type often, and you control what the text of the shortcut is. It can be one letter or a few letters of the phrase. Even if you are working on shared iPads, the shortcut can be used by anyone who types in the phrase and it works everywhere– not only in websites, but also within apps and when typing in notes. Don't want to use the shortcut but it keeps popping up? Just keep typing and don't hit the spacebar!
What Do You Think?
Have you enabled keyboard shortcuts for your students? What shortcuts have you created, and how has it saved you time?